Curriculum Vitae of Ferenc Gerhardt
Print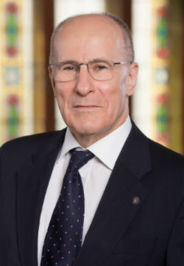 Dr. Ferenc Gerhardt
Deputy Governor of the Magyar Nemzeti Bank and member of the Monetary Council from 22 March 2011
Dr Gerhardt completed his studies at the Faculty of Industry of the Budapest University of Economics. He has a postgraduate degree in external economics from the University. In the early part of his professional career, between 1971 and 1978, he was Secretary of the Economic Council at the Ministry of Agriculture and Food and member of the Economics Department staff. Between 1979 and 1983 he was Deputy Director, Finance, of AGROBER AGROINVEST. From 1983 until 1998 he served as Executive Director of Central European International Bank, then as Deputy CEO of ING Bank. As Deputy CEO at Hungarian Development Bank, he oversaw the accounting, IT and technical investment areas between 1999 and 2000. Between 2000 and 2002 he worked as CEO of Konzumbank.
Dr Gerhardt joined Hungarian Foreign Trade Bank as Adviser of the Chairman & CEO and worked in the Bank's governing bodies and participated in the management of strategic development projects and the privatization of Konzumbank. Between 2005 and 2007 he was Director of IT, Back Office, Institutional and Public Procurement and Facilities Management at the Magyar Nemzeti Bank. He worked as Adviser of the Chairman of Allianz Hungária between 2008 and 2010. Between 2010 and 2011 he held the offices of Deputy CEO and Member of the Board of Directors of Hungarian Development Bank.
In 2011, Parliament appointed him member of the Magyar Nemzeti Bank's Monetary Council. In 2013, the President of the Republic appointed him Deputy Governor of the Magyar Nemzeti Bank at the proposal of the Prime Minister.