The first of the series, featuring the first Hungarian post car designed by János Csonka, was issued in 2005, followed by a coin in honour of József Galamb and Jenő Farkas, the Hungarian designers of the Ford Model T, in 2006. Coins honouring János Adorján, Tivadar Puskás, Donát Bánki, László Bíró and Ányos Jedlik were issued by the Magyar Nemzeti Bank each year between 2007 and 2011.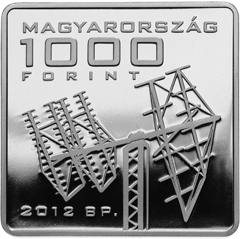 The collector coin was designed by Áron Bohus. The obverse of the coin bears a stylised representation of a ground antenna capable of receiving the signals of MASAT-1. The inscriptions 'HUNGARY' (in Hungarian), the value numeral '1000' and 'FORINT' appear above the representation of the antenna. Below it, the mint year '2012' and the mint mark 'BP.' are shown.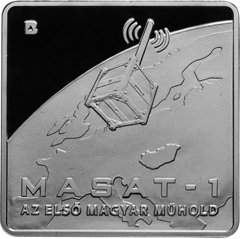 The reverse of the coin features a stylised representation of MASAT-1 in operation. In the background is a detail of the earth with Europe as viewed from space, showing the raised map of Hungary. The inscriptions 'MASAT-1' and 'THE FIRST HUNGARIAN SATELLITE' (in Hungarian) appear below the representation of the satellite. The initials of designer Áron Bohus are in the upper left corner of the coin.
The square shaped collector coin is produced from cupro-nickel (an alloy of 75% copper and 25% nickel) and weighs 14 grams. Its size is 28.43 mm×28.43 mm and it has a smooth edge.
The mintage limit is 10,000, of which a total of 5,000 coins can be produced in proof finish.
The collector coin can be purchased from 5 April 2012 at the coin shop of the Hungarian Mint in the Magyar Nemzeti Bank's Visitor Centre (8–9 Szabadság tér, Budapest) and on the Mint's website (www.penzvero.hu).
MAGYAR NEMZETI BANK
COMMUNICATIONS