The MNB has been upgrading the denominations of its current banknote series between 2014 and 2018. Under the programme, redesigned, upgraded notes will be put into circulation in the coming years. This first in the series is the upgraded 10 000 forint note, which will be legal tender from 1 December 2014, and is expected to become widely available for everyday use in the course of 2015.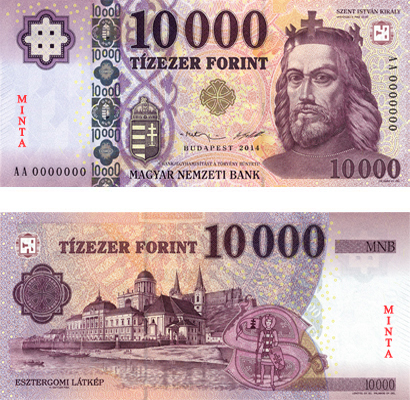 The new, upgraded 10 000 forint note
Cash handlers have already made preparations for the arrival of the new notes: banknote processing machines are now suitable to accept the new notes and work to update customer-operated cash machines, parking meters and ticket machines to accept the new design is progressing well. In order to ensure the smooth circulation of the upgraded note, the MNB is providing active support to a range of participants involved in the cash cycle. For example, it offers free training for professional cash users such as retailers, bank staffs and cashiers at post offices to familiarise them with the new notes. In order to keep the public well informed, national and commercial TV channels will broadcast a new film clip sharing information about the upgraded 10 000 forint note in social advertising time from the date of issue. In addition, the MNB has sent out various information brochures, posters, prospectuses and leaflets giving details of the new note to retail outlets as well as to bank branches and post offices.

Information brochures related to the upgraded 10 000 forint banknote and answers to frequently asked questions about the programme are also available in downloadable format on the MNB's website under 'Banknotes and Coins'.

In addition to the new 10 000 forint notes to be put into circulation from 1 December, the 10 000 forint notes currently in use will retain legal tender status until the Bank's decision to withdraw them later.
Magyar Nemzeti Bank