The Magyar Nemzeti Bank will issue a commemorative version of the HUF-50 circulation coin on the occasion of the FIE World Fencing Championships to be held in Hungary. The special metal coin will enter circulation in 2 million pieces today.
The face value side of the 50-forint coins to be issued is identical with that of the 50-forint coin denomination currently in circulation; however, replacing the usual saker falcon the thematic side features one of the classic actions in epée bout: the moment of a touché. In the upper legend the lettering 'VÍVÓ-VILÁGBAJNOKSÁG' (World Fencing Championships) is shown, which is separated from the fencing scene by a line, which is slightly broken at one point. Following the line the text is bent. Below the scene there are horizontal lines symbolising the piste. Aligned centre, the compulsory elements of the coins are placed between them: the lettering 'MAGYARORSZÁG' (Hungary), as the issuer, and below the lower line, the mint year '2019' is featured. The edge of the coin side is decorated with a string of pearls.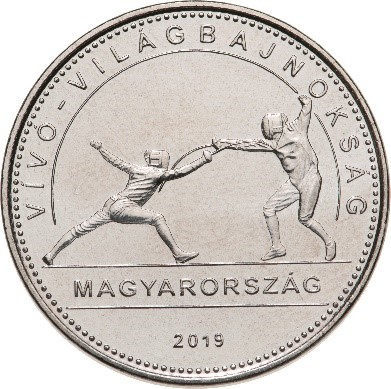 The thematic side of the coin was designed by István Kósa. The technical parameters of the coin are identical to the 50-forint coins used in circulation: it is produced from an alloy of copper (75%) and nickel (25%). It weighs 7.70 grams, it is 27.4 mm in diameter, its edge height is 1.8 mm and it has a smooth edge.
2 million pieces will be made from the commemorative version of the 50 forint circulation coin. The public will be able to familiarise themselves with the coin during cash transactions when making everyday purchases. The coins, produced in BU finish, will be available at their face value for collectors at the coin shop of the Hungarian Mint Ltd. at 7 Báthory utca, Budapest, before they enter circulation until stocks last.
The MNB will make the coins available in limited quantities, by way of exchange, at its retail cash office at 1 Kiss Ernő utca, distr V, Budapest for three months after issuance.