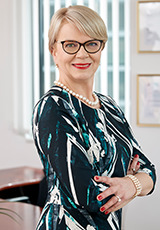 Elected on 6 April 2023 for a term of six years
She graduated from the Faculty of Law and Political Sciences of the Eötvös Lóránd University and passed her law exams. From 1990 he worked as a legal lecturer at Generalimpex Hungarian Foreign Trade Company, and later as a chief lawyer at the Liquidation Directorate of the State Development Institute. From 1995 he worked at Kvantum Investment Bank Rt.
2015 -                         Garantiqa Hitelgarancia Zrt. 
CEO
Under my management, Garantiqa Hitelgarancia Zrt. has become a key player of Hungarian SME financing. The Firm's underwriting portfolio has grown at extraordinary rates in recent years, increasing nearly sevenfold in seven years: from HUF 366.2 billion in 2015 to HUF 2483 billion by mid-2022. 
2010-2015                  Garantiqa Hitelgarancia Zrt.
Deputy Chief Business Officer
2004-2010                  MÁV Csoport
Head of Portfolio Management
Staff and Legal Director
Office of Chairman and CEO, Adviser
2004                            Magyar Nemzeti Bank 
Deputy Head of Department
2001-2002                  Magyar Posta Tetra Rt.
CEO       
1999-2001                  Magyar Fejlesztési Bank Rt.
Chief Legal Adviser, Managing Director
Deputy Chief Business Officer
Chairman and CEO            
1998-1999      Kvantum Követeléskezelő és Befektetési Rt. 
Chief Legal Adviser   
1995-1998                  Kvantum Investment Bank Rt. 
Chief Legal Adviser                                    
1993-1995                  Állami Fejlesztési Intézet Felszámolási Igazgatósága
Staff Lawyer
1990-1993                  Generalimpex Magyar Külkereskedelmi Vállalat
Legal Rapporteur
EDUCATION
Eötvös Loránd University, Faculty of Law                        
Bar examination
MISCELLANEOUS
Marital status
Married, mother of three children                           
Elected positions
Garantiqa Hitelgarancia Zrt., Member of the Board
Hungarian Banking Association, Member of the Board
European Association of Guarantee Organisations, Member of the Board 
Major awards and recognitions
Knight's Cross of the Hungarian Order of Merit (President of the Republic) - 2023
Banker of the Year (MasterCard, Hungarian Banking Association) – 2022
Ministerial Award for dedicated work performed in state asset management – 2021
Social Responsibility Award (National Association of Entrepreneurs) – 2017