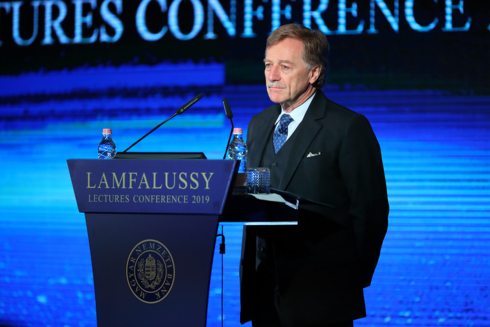 The recipient of Lamfalussy Award 2019 is Yves Mersch, member of the Executive Board of the European Central Bank (ECB).
He was the first Governor of the Banque centrale du Luxembourg (BCL) from 1 June 1998 to 14 December 2012. During his tenure as Governor of the BCL, in 2011 Mr. Mersch was elected Co-Chair of the Financial Stability Forum's Regional Consultative Group for Europe.
He has been a member of the Governing Council and the General Council of the ECB since their creation in 1998. He is the longest-serving member of the Governing Council.
After obtaining post-graduate degrees, first in international public law and then in political science, he had a teaching assignment at the Université Paris-Sud. During this time he was admitted to the Bar of Luxembourg.
Mr. Mersch started his career at the Luxembourg Ministry of Finance in 1975. He was seconded to the International Monetary Fund (IMF) in Washington in 1976 and joined the Permanent Representation of Luxembourg to the United Nations in New York in 1980.
Upon his return to Luxembourg in 1981, he worked at the Ministry of Finance. From 1985 to 1989 he was Government Commissioner in charge of oversight of the Luxembourg stock market. Between 1983 and 1999 he was a member of the Council of the Luxembourg Monetary Institute, Luxembourg's banking supervisory authority. As Personal Representative of the Minister of Finance, Mr. Mersch contributed to the design of the Maastricht Treaty.
He represented his country in the governance of international organizations like IMF, World Bank group, European Bank for Reconstruction and Development (EBRD), European Investment Bank (EIB), etc., as well as in private sector companies in the areas of banking, insurance, telecommunications, satellites...
Mr. Mersch was appointed Honorary Professor at the University of Luxembourg. As of 2015, he assumed membership of the Central Bank Governance Group, established at the Bank for International Settlements. Mr. Mersch is a member of the Institut Grand-Ducal in Luxembourg; he is also a member of the Board of Trustees of the Institute for European Politics. He is Officer of the National Order of the Legion of Honour (Ordre National de la Légion d'honneur, France).