Graphic designs added to the MNB's 2020 collector coin issuance programme
Print
Budapest, 2 December 2019 - In the spirit of the Magyar Nemzeti Bank's collector coin issuance traditions going back 50 years 29 collector coins will be issued in 2020. The coins will cover 15 themes and continue four series. The particularly rich programme features two gold, twelve silver coins and two separate non-ferrous metal pieces and non-ferrous metal versions of precious metal collector coins. Most of the graphic designs can be accessed at the link below:
https://www.mnb.hu/letoltes/emlekpenz2020eng-omsz4.pdf.[1] 
Overall, the structure and the implementation of the collector coin issuance programme for 2020 is guaranteed to be diverse. Such collector coin series, popular with collectors and launched in previous years, will be continued as the ones featuring Hungarian gold florins from the Middle Ages, national parks in Hungary, national memorial sites and Hungarian shepherd and hunting dogs. In addition, significant anniversaries in the world of history, science, sport and art history, events on the international scene, outstanding sport events will also be featured on the coins.
The MNB's collector coin issuance programme for 2020: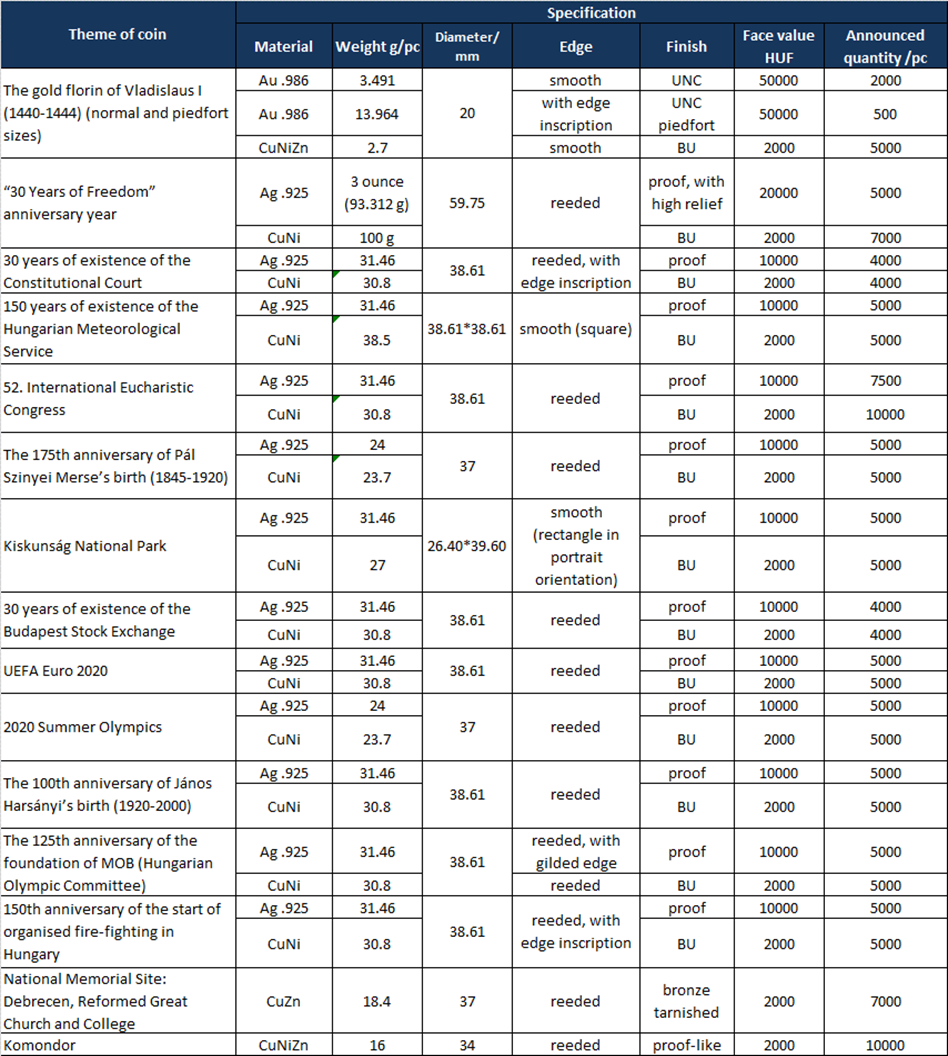 In line with the sales policy in effect since 2014 a non-ferrous metal version with a lower face value of all precious metal collector coins will also be issued. This design will not only expand choice, but it will also help the promotion of the collector coins as well as their informative role due to their lower price more effectively.
Simultaneously with the publication of graphic designs the Hungarian Mint Ltd., the producer and distributor of collector coins, will offer a booking facility for the collector coins issued under the 2020 Programme. (For details see https://www.penzvero.hu/.)
The Bank reserves the right to change any aspects of the programme. Final data will be determined by the decrees of the Governor published in the Hungarian Official Journal (Magyar Közlöny). 
[1] The table containing the graphic designs is updated continuously.