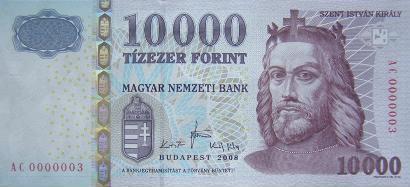 Customers will be able to use the current 10 000 forint note to do their shopping until 31 December 2019. After that date, the MNB will withdraw them, and from 1 January 2020 only upgraded 10 000 forint notes will be available in day-to-day transactions.
It is important to know that the old banknotes will not lose their value for many years following withdrawal. After the withdrawal date, credit institutions and post offices, and the MNB, respectively, will exchange them into legal tender of the same denomination for three years and 20 years.

In 2014, the Magyar Nemzeti Bank started to replace forint banknotes in circulation and to introduce new banknotes with upgraded security features and modern design. In doing so, the Bank's aim is to ensure that after the note issuing programme is completed, i.e. from 2019, only denominations in the 'New forint banknotes' series remain in currency circulation as Hungarian legal tender and that old banknotes issued from 1997 are withdrawn gradually. 
Withdrawal of old banknotes means that acceptance of a given banknote denomination will not be compulsory in cash payments. In addition, withdrawal will not lead to automatic loss of value, as credit institutions and the post office will exchange withdrawn banknotes into legal tender for three years following the date of withdrawal, without any territorial restriction and free of charge. Banknotes withdrawn from circulation can be exchanged into legal tender for 20 years following the date of withdrawal, also without any limitation. 
The table below summarises the dates of issue and withdrawal of banknotes currently in circulation as legal tender. For detailed information about the exchange of banknotes being withdrawn, follow this link.